Hire A Weapons Lawyer For Weapons Charges In Broward County
Florida is one of the state's notoriously known to be tough on crime, especially when it comes to firearms and weapons. The statutes and constitution are very clear on who can carry a concealed weapon or any type of weapon. Regardless of that, the number of people that are charged with illegal weapons and firearms in Florida is still on the rise. If you have recently experienced a weapons charge, contact a weapons lawyer to review your case.
Being charged with unlawful possession of an illegal weapon or firearm is a serious crime in Florida. If you or anyone you know has been charged with this crime, you need to call The Law Office of Matthew Glassman, P.A. and speak to weapons attorney Matthew Glassman at once. With more than 10 years of experience, Mr. Glassman has dealt with cases ranging from DUI's, gun charges to white collar crime to the more severe first-degree murder cases.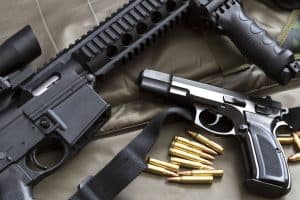 Charged With Unlawful Possession Of A Firearm Or Weapon In Broward County?
As defined in Section 790.01(2), Florida Statutes "a person who carries a concealed firearm on or about his person commits a felony of the third degree. "If you are charged with this felony the penalty could be 5 years of imprisonment or a fine of $5000 and 5 years of probation.
The Law Office of Matthew Glassman, P.A. can take advantage of multiple legal defenses in an attempt to get your weapons charge case dismissed or your penalties minimized.
The Florida Department of Agriculture and Consumer Services allows Florida residents to obtain a conceal and carry license to carry a concealed firearm. According to the concealed carry in Florida law, this may include a range of firearms, if they are concealed from others. In the state of Florida, you are legally allowed to conceal firearms such as handguns, electronic weapons or devices and tear gas guns.
As Florida is a conceal and carry state, this gives you the right to hide your firearm from others. However, responsible gun owners who did nothing wrong end up getting prosecuted for offenses involving a concealed firearms all too often.
The legal defenses that may be pursued in your firearms and weapons case are as follows:
The weapon was discovered in an illegal search (without a warrant). As defined in The Fourth Amendment"protect citizens from unreasonable search and seizure. The government may not conduct any searches without a warrant, and such warrants must be issued by a judge and based on probable cause."
Being placed under arrest as a result of police misconduct.
Your weapon does not meet the characteristics of a generally prohibited weapon.
You were unaware that your weapon falls under the category of a generally prohibited weapon.
You have a valid permit to carry the weapon or firearm that was in your possession.
How Can A Fort Lauderdale Weapon Charges Attorney Help You?
Our weapons attorney at the Law Office of Matthew Glassman, P.A.. can help any weapons charge cases regarding handgun ownership and possession, as well as alleged violent crimes involving weapons and the use of deadly force for clients in South Florida.
Weapons attorney Matthew Glassman can handle the following types of weapon charge cases:
Self-Defense
Stand Your Ground
Criminal Homicide Defense
Firearm Used in the Commission of a Crime
Concealed Weapons Firearms
Florida Concealed Weapons Permits
Illegal Public Display of Weapons
Our Firearms And Weapons Law Firm Handles Cases In Broward County And Also Accepts Cases From The Following Surrounding Areas, Including:
Fort Lauderdale
West Palm Beach
Hollywood
Dania Beach
Hallandale Beach
Coral Springs
Delray Beach
Broward County
Pompano Beach
Pembroke Pines
Boca Raton
Miami
Are You Or Someone You Know Facing Allegations Of A Weapons Charge In South Florida?
After being in the criminal defense field for more than 10 years and handling cases punishable by the death penalty, Matthew Glassman has defended countless people from cases stemming from the use, discharge and possession of a firearm. If you have been charged with unlawful possession of a firearm or any weapons charge you need to act fast and call the Law Office of Matthew Glassman, P.A. right away. With the right gun lawyer by your side you can potentially have your case dismissed or reduced.
Let Our Weapons Lawyer Help You With Your Weapons Charge
Don't let a mistake of misunderstanding end up putting you behind bars for a weapons charge. While gun accidents happen every day in Florida, it is your constitutional right to protect yourself. Your Florida gun rights are important to know. Weapons lawyer Matthew Glassman has great success for securing favorable case results for clients who face weapon charges in South Florida.
Call (954) 807-1914 now for a FREE consultation with a Florida firearms and weapons defense attorney