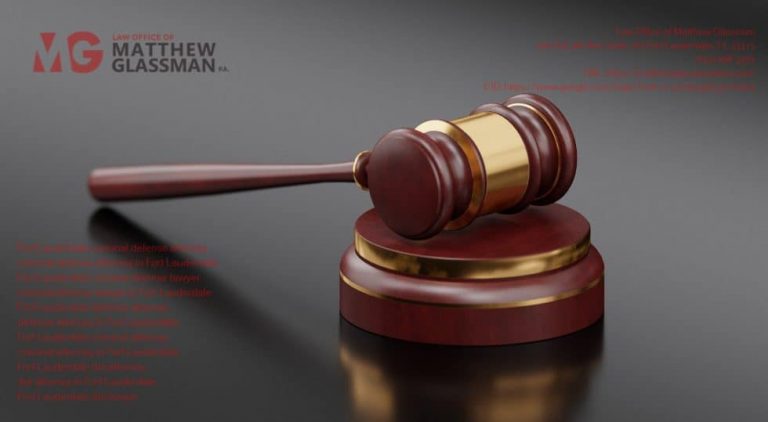 Have you or a loved one recently been arrested or are under criminal investigation in Fort Lauderdale? Put your trust in the experience and expertise of a skilled Fort Lauderdale criminal attorney such as Matthew Glassman. He provides an initial free consultation to discuss your criminal case and has successfully helped thousands of defendants in the Miami-Dade, Broward, and Palm Beach Counties with their criminal charges.
Criminal Defense Allegations Can Include Many Of The Following:
Drug Crimes:  Drug crimes range in severity from a Misdemeanor punished by up to one year in the County jail all the way up to Felonies punishable by life imprisonment.

The two most common drug crime offenses in Fort Lauderdale and the surrounding areas are drug possession and drug trafficking. While both offenses are serious offenses, drug possession is the least severe of the two with penalties varying depending on the type of drug and whether or not the case is classified as a Misdemeanor or a Felony. Drug trafficking is a much more serious offense in Fort Lauderdale and can carry lengthy mandatory prison sentences. 
DUI Defense: DUI is a particularly complex area of the law that must be handled quickly and correctly or it can leave a lasting impact on your employment & your ability to drive. Having a DUI on your record can result in a loss of your driving privileges. In Florida, a first DUI offense will often register as a misdemeanor, but this still shows on a criminal record and can cost you thousands when you consider fees, fines, court costs and increased insurance premiums plus the possibility of a lengthy county jail sentence. To make matters worse, DUI's per statute, carry a mandatory adjudication meaning it counts as a conviction on your record.
A Florida DUI charge is a serious offense that may carry either misdemeanor or felony penalties that depend on:
The number of prior DUI convictions
If you had a minor in the vehicle
How high your blood-alcohol or breath-alcohol level was
If you crashed while under the influence
If you caused serious bodily injury or death to someone else
Sex Crimes: Sex crimes are taken very seriously by the courts and can result in lengthy prison sentences and lifetime registration as a sex offender if convicted.

White Collar Crime: White collar crime offenses such as fraud, tax evasion or embezzlement typically occur when an individual is entrusted with someone's business or personal finances.

Types of Fort Lauderdale white collar crimes and fraud include:
Consumer fraud
Tax fraud, evasion, failure to file
Identity theft
Securities fraud
Wire fraud
Mail fraud
Bank fraud
Embezzlement
Counterfeiting
Obstruction of justice
Conspiracy
Bribery
Extortion
False statements
False declarations
Bankruptcy crimes
Perjury
Computer crimes
Firearms and Weapon Charges:  When an individual is charged with a weapons offense, it can be the result of an unlawful possession, display or discharge. Being charged with unlawful possession of an illegal weapon or firearm is a serious crime in Florida. Florida is one of the state's notoriously known to be tough on firearms and weapons crimes. A weapons charge in Florida can potentially carry with it a minimum mandatory prison sentence. The statutes and constitution are very clear on who can carry a concealed weapon or any type of weapon. The number of people that are charged with illegal weapon possession and firearms in the state of Florida has been on the rise as of recent.
Stand Your Ground Law Cases and Possible Defenses: The simplest definition of stand your ground immunity in Florida is that a person can avoid arrest and often trial in a criminal matter– if it is shown at a pre-trial hearing that the force he or she used was a necessary response to a reasonable belief that the person was in fear of injury or, in the case of deadly force, great bodily injury or death. Florida was the first state in the nation to pass a stand your ground law in 2005 and many states have subsequently followed its lead, despite the law being one of the most misunderstood criminal defense laws by the media and in the eye of public perception.

Possible Florida stand your ground defenses include:
A person acted in self-defense
A person was defending someone else
Domestic Violence Charges: Any aggressive or violent behavior between family members who reside in the same home is generally categorized as domestic violence in the state of Florida. Domestic violence charges most commonly happen between a spouse or partner or those in a dating relationship. The seriousness of a Domestic violence charge depends on whether you are accused of a misdemeanor domestic act or a felony. Domestic charges include violent acts such as hitting and threats to hit; felony spousal/cohabitant abuse if you have previously been convicted for same type of behavior. Being charged with domestic violence can result in serious life consequences such as prison time and can affect your marriage, children, job, home and personal possessions.
Florida domestic violence charges have been on the rise since the pandemic, and can result in consequences such as:
Jail and or Prison Time
Probation/Community Control
Restraining Orders
Large Fines
Batters Intervention and Anger Management Classes
Murder/Homicide Charges: One of the most serious criminal offenses to be accused of is murder or homicide. It's important to understand what type of murder offense you are being charged with as each charge carries different penalties and or minimum mandatory prison sentences.
Fort Lauderdale murder and homicide charged offenses have also been on the rise during the pandemic and include:
First-Degree Murder
Second-Degree Murder
Third-Degree Murder
Manslaughter
Vehicular Manslaughter
DUI/BUI Resulting in Death
What To Do If You Are Criminally Charged Or Arrested In Fort Lauderdale:
Contact a knowledgeable criminal defense attorney and hire an experienced Fort Lauderdale Criminal Defense Attorney who is ready willing and able to defend your rights in court. Your lawyer will pursue all possible defenses on your behalf and fight hard to make sure your rights are protected.
What Does A Criminal Defense Lawyer Do?
A criminal defense lawyer's role is to zealously defend you against any criminal allegation. A criminal defense attorney will fight hard to prevent any unreliable evidence from being used against you, evidence which could otherwise lead to an innocent person being convicted of a crime.
What Is The Difference Between A Lawyer And A Criminal Defense Attorney?
A lawyer practices the law, assisting clients inside and outside of court. All criminal defense attorneys are lawyers. Their job is to represent those that have been accused of or are under investigation for potentially committing a crime.
Charges A Criminal Defense Attorney Can Help You With:
Fort Lauderdale criminal defense attorney Matthew Glassman is experienced in helping his clients who face the following criminal offense charges:
Assault & Battery
Domestic Violence
Violation of Injunctions
Culpable Negligence
Child Abuse & Child Neglect
Obstruction of Justice
DUI
Driving Under the Influence
Prostitution
Elderly Abuse
Kidnapping & False Imprisonment
Drug Offenses: Trafficking, Delivery, Possession
Violations of Probation
Driving While License Suspended or Revoked
Arson & Criminal Mischief
Burglary & Trespass
Robbery
Resisting Arrest
Animal Cruelty
Homicide Offenses
Murder & Attempted Murder
Voluntary & Involuntary Manslaughter
Sex Offenses
Sexual Battery
Lewd or Lascivious Conduct
Failure to Register as a Sex Offender
Possession of Child Pornography
Theft Offenses
Dealing in Stolen Property
False Information to a Pawn Broker
Grand and Petit Theft
Weapons Offenses
Discharging a Firearm
Felon in Possession of a Firearm
Carrying a Concealed Weapon or Firearm
Why Should You Hire A Fort Lauderdale Criminal Defense Lawyer
It is important that you find an experienced Fort Lauderdale criminal defense lawyer to represent your case in the court of law. You should always be aware of your legal rights to counsel and fully understand any charges that you are under investigation for or have been arrested and charged with. The criminal justice system can be exceedingly difficult to get out of once you get caught up in it. Do not allow that to happen to you!
Matthew Glassman has made a successful career defending and fighting for those accused of criminal charges throughout Miami-Dade, Broward and Palm Beach Counties. He lets his work speak for himself as he is highly recommended by his clients. He has a 10.0 rating on Avvo and a Google 5.0-star rating with over 144 Google Reviews. In fact, he currently has the most 5-star Google reviews of any criminal defense attorney who conducts the majority of their practice in the Fort Lauderdale, Broward County Florida area.
Effective Florida Legal Representation In Criminal Defense
If you are under investigation or have been arrested, the Law Office of Matthew Glassman P.A. understands how these situations can potentially have a devastating and stressful effect on you and your family. An arrest or investigation can affect your job, your relationships, your health, and your overall peace of mind. Having an experienced, trusted, and effective Fort Lauderdale defense attorney can help manage your stress. Your criminal case deserves an experienced criminal lawyer in Fort Lauderdale that will aggressively fight for your legal rights and freedom.
The Florida criminal justice system can be very complex and confusing. A South Florida criminal defense lawyer will be able to help navigate the justice system's complexities and be able to answer all the questions you may have. Contact criminal defense attorney Matthew Glassman today to get started with your free consultation and to learn more about your legal rights when it comes to your criminal defense case. 
Law Office of Matthew Glassman
600 SW 4th Ave.
Suite 103
Fort Lauderdale, FL 33315
(954) 807-2074